These are photos of the ground from a Minneapolis-to-San Francisco flight. Why does our country look like another planet from up there? What ARE these things?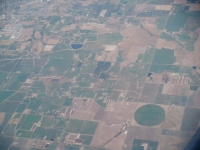 My first trip to Japan was in 1988 as a foreign exchange student through Youth for Understanding. Twenty-six years later I returned to visit. Below are albums of both trips.
I truly believe that who I am today may be rooted in this one Viewmaster reel.
Origins
Like Rosebud, the enigmatic sled in Citizen Kane, I believe this Viewmaster reel may be centered at the root of my being. Was it why I was inspired to pursue both a liberal arts undergraduate degree and a masters degree? This reel IS the liberal arts.