My first trip to Japan was in 1988 as a foreign exchange student through Youth for Understanding. Twenty-six years later I returned to visit. Below are albums of both trips.
I truly believe that who I am today may be rooted in this one Viewmaster reel.
Origins
Like Rosebud, the enigmatic sled in Citizen Kane, I believe this Viewmaster reel may be centered at the root of my being. Was it why I was inspired to pursue both a liberal arts undergraduate degree and a masters degree? This reel IS the liberal arts.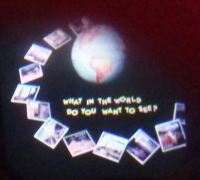 It was enjoyable hearing the famed cicadas in the Provence region of France this summer and now they have awakened in Madison, Wisconsin as well. It's a rare occasion to find a cicada – intact – without damage from birds or insects, but I managed to find one this year. Usually, the only way you can tell the cicadas are around is from the continuous buzzing sound they make or the occasional molt they leave behind, so it was cool to finally see the whole, amazing insect up close.
This is the coolest visual of Madison I've seen so far:
Filmed and edited by Matt Hicks
Heather and I saw one of these in the south of France and she took this awesome photo.
Look familiar?

Had a great time with photographer Sean Rowley and friends Adam and Mindy doing a retro, glam photo shoot outside of Madison, with these gorgeous classic cars.
Unlike Europe and Asia, the United States allowed it's vast, once dominant, train infrastructure to decay into obscurity.  Driving along Highway 75, in northern Illinois–a route pioneered by train tracks–I caught this sublime and hidden scene out of the corner of my eye.  Here is a momentary glimpse into the merciful, yet unrelenting way nature reclaims what once took such an enormous effort, by man, to build.  Thanks to my mom for having to awkwardly pull the car over on such a treacherous part of the highway.